Latest topics
»
SHELVED/SESSIONS: @Louisa • 'Roads To Rome' • Epic/Simco [November 18, 2016 / 2018]
by
Admin
Mon Jul 27, 2020 9:23 am
»
UPCOMING: KYLIE MINOGUE• 'DISCO' • BMG [2020]
by
Admin
Fri Jul 24, 2020 5:26 pm
»
SHELVED: @EllaHenderson • 'Chapter II' • Epic/Simco [2017]
by
Admin
Thu Jul 23, 2020 5:28 pm
»
UPCOMING: ALLY BROOKE • LP1 • ATLANTIC/latium
by
Admin
Thu Jul 23, 2020 5:24 pm
»
UPCOMING: ELLA HENDERSON • LP2 • WBR/MAJOR TOMS/ASYLUM
by
Admin
Thu Jul 23, 2020 5:23 pm
»
UPCOMING: AVA MAX • LP1 • ATLANTIC
by
Admin
Thu Jul 23, 2020 5:20 pm
»
UPCOMING: PIA MIA • LP1 • UMG/REPUBLIC
by
Admin
Thu Jul 23, 2020 4:18 pm
»
CREDITS: TOVE LO • 'SUNSHINE KITTY [DELUXE]' • ISLAND [2020]
by
Admin
Wed Jul 22, 2020 2:43 pm
»
CREDITS: JESSIE WARE • 'WHAT'S YOUR PLEASURE?' • VIRGIN [2020]
by
Admin
Wed Jul 22, 2020 2:38 pm
»
CREDITS: ELLIE GOULDING • 'BRIGHTEST BLUE' - 'EG 2.0' • POLYDOR/FIRST ACCESS [2020]
by
Admin
Wed Jul 22, 2020 2:28 pm
»
CREDITS: @KMICHELLE • 'THE PEOPLE I USED TO KNOW' • ATLANTIC/WBR • GOLDIIE, JEREMIAH BETHEA, PRISCILLA RENEA, JEREMIH, CLAUDE KELLY, CARMEN REECE
by
Admin
Sat Dec 09, 2017 10:09 am
»
CREDITS: CALUM SCOTT • 'ONLY HUMAN' • CAPITOL [08/03/18]
by
Admin
Fri Dec 08, 2017 6:35 am
»
NEW SINGLES: @CAMILACABELLO • 'CAMILA' • @EPIC_RECORDS @SYCO • JAN 12TH
by
Admin
Fri Dec 08, 2017 6:35 am
»
NEW MUSIC FRIDAY: 08/12/17 @SPOTIFY @ASCAP @BMI
by
Admin
Fri Dec 08, 2017 6:24 am
»
TAYLOR SWIFT • 'reputation' • BIG MACHINE • MAX MARTIN / SHELLBACK / OSCAR GORRES / OSCAR HOLTER / ALI PAYAMI / JACK ANTONOFF
by
Otaku
Thu Dec 07, 2017 8:46 pm
»
CHARLI XCX • 'POP2' • WBR
by
Otaku
Thu Dec 07, 2017 8:26 pm
»
CREDITS: @STAR • S1+S2 • @UMG @REPUBLICRECORDS •@wordtoJUDE @BRITTANYOGRADY @RYANDESTINY @FOXTV @NETFLIX @FOXNATION
by
Admin
Thu Dec 07, 2017 11:57 am
»
NEW MUSIC FRIDAY: 01/12/17 @SPOTIFY @ASCAP @BMI
by
Admin
Sun Dec 03, 2017 6:50 am
»
NEW MUSIC FRIDAY: 24/11/17 @SPOTIFY @ASCAP @BMI
by
Otaku
Sat Dec 02, 2017 8:09 pm
»
CREDITS: @MATTTERRY93 • 'TROUBLE' • SYCO/EPIC
by
Otaku
Sat Dec 02, 2017 8:04 pm
»
NEW MUSIC FRIDAY: 17/11/17 @SPOTIFY @ASCAP @BMI
by
Otaku
Mon Nov 20, 2017 5:14 pm
»
NEW MUSIC FRIDAY: 10/11/17 @SPOTIFY @ASCAP @BMI
by
Otaku
Mon Nov 20, 2017 4:28 pm
»
DISCOGRAPHY: TOVE LO • 'BLUE LIPS' • UMG / 'LADY WOOD' / 'QUEEN OF THE CLOUDS'
by
Admin
Thu Nov 09, 2017 7:51 pm
»
NEW MUSIC FRIDAY: 03/11/17 @SPOTIFY @ASCAP @BMI
by
Admin
Thu Nov 02, 2017 4:01 pm
»
NEW MUSIC FRIDAY : 27/10/17
by
Admin
Thu Nov 02, 2017 3:01 pm
»
NEW MUSIC FRIDAY: 20/10/17 @SPOTIFY @BMI @ASCAP
by
Otaku
Thu Oct 26, 2017 12:45 am
»
CREDITS: @AGNEZMO x @only1DANJA • X • Jim Beanz/Goldiie/Jamaica Smith
by
Admin
Wed Oct 18, 2017 8:46 pm
»
NEW MUSIC FRIDAY: 06/10/17 @SPOTIFY @ASCAP @BMI
by
Admin
Sun Oct 15, 2017 6:50 am
»
NEW TRACKS: KELLY CLARKSON • 'MEANING OF LIFE' • @ATLANTICRECORDS
by
Otaku
Sat Oct 14, 2017 6:17 pm
»
NEW MUSIC FRIDAY: 13/10/17 @SPOTIFY @ASCAP @BMI
by
Otaku
Sat Oct 14, 2017 6:02 pm
»
• CHECK OUT OUR LATEST PLAYLISTS/CREDITS @SPOTIFY PAGE •
by
Admin
Wed Oct 11, 2017 4:38 pm
»
CREDITS•UNRELEASED: @ESMEEDENTERS • @INTERSCOPE TENNMAN • @JUSTINTIMBERLAKE @FAUNTLEROY @ESTERDEAN @TOBYGAD
by
Admin
Wed Oct 11, 2017 4:37 pm
»
DISCOGRAPHY: @4everBRANDY • @ATLANTICRECORDS @EPIC_RECORDS @RODNEYJERKINS @TIMBALAND
by
Admin
Sun Oct 08, 2017 6:44 pm
»
DISCOGRAPHY: @TAMARBRAXTONher • [1996-2017] @RODNEYJERKINS @TRICKYSTEWART @VINCENTHERBERT @EPIC_RECORDS @DREAMWORKS
by
Admin
Wed Oct 04, 2017 2:24 pm
»
NEW MUSIC FRIDAY: 29/09/17 @SPOTIFY @ASCAP @BMI
by
Admin
Wed Oct 04, 2017 10:38 am
»
UPCOMING: @ERAISTREFI • ULTRARECS • @iSTARRAH @ALEXPURPLE71 @CHLOEANGELIDES @RAYE @thisisROMANS @TMSldn
by
Admin
Tue Oct 03, 2017 8:50 pm
»
NEW TRACKS: @TINASHE • 'JOYRIDE' • @RCARECORDS • @MIKEWILLMADEIT @DEV_HYNES @STARGATE @JUSTTRANTER @imJMICHAELS
by
Otaku
Mon Oct 02, 2017 11:44 pm
»
CREDITS: @DDLOVATO • 'TELL ME YOU LOVE ME' • @UMG @TAYLAPARX @DJMUSTARD @OAKwud @NOONIEBAO
by
Otaku
Mon Oct 02, 2017 11:12 pm
»
CREDITS: @BEAMILLER • 'blue/red/yellow' • @SYCO @HOLLYWOODRECS • @OAKwud @STEPHJONESmusic
by
Admin
Thu Sep 28, 2017 1:09 pm
»
[in progress] @JLO • 'LIVE IT UP' [LP] • @REDONE_official /@CAPITOLRECORDS [12-13] @DIANAVICKERS @ENRIQUEIGLESIAS
by
Otaku
Thu Sep 28, 2017 1:20 am
»
NEW MUSIC FRIDAY: 22/09/17 @SPOTIFY @ASCAP @BMI
by
Admin
Wed Sep 27, 2017 1:52 pm
»
CREDITS: @JLO • 'LOVE?' • @EPIC_RECORDS SESSIONS • @PHARRELL @AMANDAGHOST
by
Admin
Mon Sep 25, 2017 9:43 pm
»
CREDITS: @KMICHELLE • 'A REBELLIOUS SOUL' • @ATLANTICRECORDS •
by
Admin
Mon Sep 25, 2017 6:03 pm
»
CREDITS: @FERGIE • 'DOUBLE DUTCHESS' • @BMG @CHARLIEPUTH @POLOWDADON @JUSTTRANTER @NICKIMINAJ
by
Admin
Mon Sep 25, 2017 5:57 pm
»
CREDITS: @weareGALANTIS • 'The Aviary' • @WBR • @CandyShields @ROZESsounds @KazPoole [09/15/17]
by
Otaku
Wed Sep 20, 2017 10:40 pm
»
NEW SINGLE: @TONIBRAXTON • 'SEX & CIGARETTES' • @ATLANTICRECORDS • @FREDBALL @KENNYEDMONDS
by
Otaku
Wed Sep 20, 2017 9:40 pm
»
CREDITS: @TONIBRAXTON • 'PULSE' • @ATLANTICRECORDS • @RODNEYJERKINS @BIGSHIZ @ROBINTHICKE @STARGATE @CLAUDEKELLY
by
Otaku
Wed Sep 20, 2017 9:12 pm
»
CREDITS: @KMICHELLE • 'MORE ISSUES THAN VOGUE' • @ATLANTICRECORDS •
by
Admin
Wed Sep 20, 2017 10:25 am
»
DISCOGRAPHY: JESSICA ASHLEY KARPOV pka @HARLOEmusic
by
Admin
Fri Sep 15, 2017 3:49 pm
»
CREDITS: @itsRANGE • 'NO STRINGS' • @ROCNATION / STARROC / EPIC • @STARGATE
by
Admin
Fri Sep 15, 2017 3:46 pm
»
CREDITS: @JESSIEWARE • 'GLASSHOUSE' • @UMG • @imJMICHAELS @KIAHVICTORIA @POPWANSEL @itstheMARU @ROSSGOLAN
by
Admin
Thu Sep 14, 2017 10:25 pm
»
CREDITS: @SJADEmusic • 'MY NAME IS SAMANTHA JADE' • JIVE/ZOMBA • @TIMBALAND @RODNEYJERKINS @MISCHKE
by
Admin
Wed Sep 13, 2017 9:22 am
»
CREDITS: @iamBRIDGETKELLY • 'SOMETHING DIFFERENT' • @ROCNATION • @FAUNTLEROY @DRAKE @STARGATE @TOBYGAD @LINDAPERRY
by
Admin
Tue Sep 12, 2017 5:37 am
»
The Waiting Room
by
Admin
Mon Sep 11, 2017 4:32 am
»
[in progress] @ALEXANDRABURKE • 'OVERCOME' • @SYCO /EPIC • @BRUNOMARS @ANDREAMARTIN @AUTUMNROWE
by
Admin
Sat Sep 09, 2017 12:58 pm
»
[in progress] @LEONALEWIS • 'GLASSHEART' • @SYCO /EPIC • @EMELISANDE @AUTUMNROWE @ARIELRECHTSHAID
by
Admin
Sat Sep 09, 2017 11:52 am
»
[in progress] PUSSYCAT DOLLS • 'PCD' / 'DOLL DOMINATION' • @INTERSCOPE •
by
Admin
Fri Sep 08, 2017 12:42 pm
»
[in progress] @LEONALEWIS • 'SPIRIT' • @SYCO /J RECORDS • @EHUDMUSIC @STARGATE @NEYO @JOHNTAAUSTIN
by
Admin
Thu Sep 07, 2017 2:46 pm
»
[in progress] @LEONALEWIS • 'ECHO' • @SYCO /J RECORDS • @ONEREPUBLIC @EVANBOGART @STARGATE @NEYO
by
Admin
Thu Sep 07, 2017 2:41 pm
»
[in progress] @BEYONCE • 'IAM / SASHA FIERCE' • @COLUMBIARECORDS
by
Admin
Thu Sep 07, 2017 2:29 pm
»
NEW TRACKS: @CHARLI_XCX • 'XCX GIRL IN AN XCX WORLD' • @ATLANTICRECORDS
by
Otaku
Fri Sep 01, 2017 4:01 pm
»
CREDITS: @itsMELANIEAMARO • 'TRULY' • @SYCO @EPIC_RECORDS
by
Admin
Thu Aug 31, 2017 5:42 pm
»
CREDITS: @MAROON5 • 'RED PILL BLUES • @INTERSCOPE /222 • @imJMICHAELS @DIPLO @CHARLIEPUTH @SZA @itsDYO @JUSTTRANTER @itsJACOBKASHER @itsBENNYBLANCO
by
Admin
Wed Aug 30, 2017 6:33 pm
»
CREDITS: 4H • @FIFTHHARMONY • @EPIC_RECORDS @SYCO • [AUG 25] @TAYLARPARX @CANDYSHIELDS @HARMONYBOE @JASONEVIGAN
by
Admin
Tue Aug 29, 2017 10:08 pm
»
NEW TRACKS REGISTERED: @BEBEREXHA • 'ALL YOUR FAULT' [LP] • @WBR • @DJMUSTARD @STARGATE @ISLEYJ @TIMBALAND @SEANDMUSIC @COOKCLASSICS @TALAYRILEY @EKIDDBOGART @INVISIBLEMENuk @IANKIRKPATRICK @ROSSGOLAN
by
Admin
Tue Aug 29, 2017 8:40 pm
»
NEW TRACKS: @RITAORA • 'THE SINGLE MOST AMAZING..' • @ATLANTICRECORDS • @ALITAMPOSI @thisisWATT @JIMMYNAPES @DALLASK @GEORGIAKU @RITUALS
by
Admin
Wed Aug 16, 2017 2:55 pm
»
CREDITS: @KATYPERRY • 'WITNESS' • @CAPITOLRECORDS @METAMORPHOSISMU @SARAHHUDSONuvs @FERRAS @MAXOPEDIA10 @DJMUSTARD @MIKEWILLMADEIT
by
Admin
Wed Aug 16, 2017 2:26 pm
»
CREDITS: @KESHA • 'RAINBOW' • @RCARECORDS @RCALABELGROUPUK @JUSTTRANTER @RICKYREED
by
Admin
Wed Aug 16, 2017 1:25 pm
»
CREDITS: @BEBEREXHA • AYF 1+2 [EP] • @WBR • @STARGATE @FRANKDUKES @RCITY @DJMUSTARD
by
Admin
Fri Aug 11, 2017 11:43 am
Top posting users this week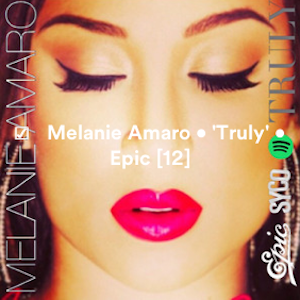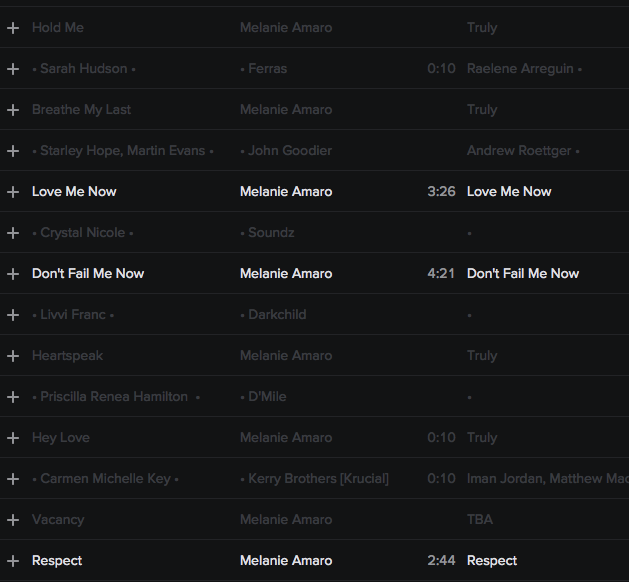 Last edited by Admin on Wed Sep 13, 2017 12:30 pm; edited 1 time in total
Is there any discog or album in particular you'd like to see?

Otaku




Posts

: 440


Join date

: 2017-08-26



I just sent you an email take a look
still thinking of some of the best we had (aka millions of collabso)
ps I'm aware that Definition is probably wrong as I think Maegan was like 12 but she's signed to Syco so I'm going with it haha
Do we need like a waiting room type of deal again just to sort of post what's leaked and random bits of info that don't belong anywhere else etc?

I know we're te worst moderators in the world as far as being on topic goes and all that but it probably helps in just keeping track of things a little.

Otaku




Posts

: 440


Join date

: 2017-08-26



That would awesome if you can yeah and maybe a hidden gems one? I only discovered Priscilla demo for Hearspeak in my iTunes the other day I'm useless!

And don't worry about formatting or anything it's all just. A work in progress as yet so just throw them up

That demo was out way before she was signed etc though, kinda easy to miss.

Otaku




Posts

: 440


Join date

: 2017-08-26



Just had a look at the mail, I doubt I have any of them sort of neatly compiled in text format but I can at least put my directories into text so to speak and then add more as I remember / find it (I have TONS of text file with just random misc info).

I guess I'll just do it like I used to - 'better safe than sorry' style, adding [???] or something if something is unconfirmed or debatable or whatever

Otaku




Posts

: 440


Join date

: 2017-08-26



Yeah definitely literallly as messy as you want I can spend my sad days off editing the format hhha
---
Permissions in this forum:
You
cannot
reply to topics in this forum