Latest topics
»
SHELVED/SESSIONS: @Louisa • 'Roads To Rome' • Epic/Simco [November 18, 2016 / 2018]
by
Admin
Mon Jul 27, 2020 9:23 am
»
UPCOMING: KYLIE MINOGUE• 'DISCO' • BMG [2020]
by
Admin
Fri Jul 24, 2020 5:26 pm
»
SHELVED: @EllaHenderson • 'Chapter II' • Epic/Simco [2017]
by
Admin
Thu Jul 23, 2020 5:28 pm
»
UPCOMING: ALLY BROOKE • LP1 • ATLANTIC/latium
by
Admin
Thu Jul 23, 2020 5:24 pm
»
UPCOMING: ELLA HENDERSON • LP2 • WBR/MAJOR TOMS/ASYLUM
by
Admin
Thu Jul 23, 2020 5:23 pm
»
UPCOMING: AVA MAX • LP1 • ATLANTIC
by
Admin
Thu Jul 23, 2020 5:20 pm
»
UPCOMING: PIA MIA • LP1 • UMG/REPUBLIC
by
Admin
Thu Jul 23, 2020 4:18 pm
»
CREDITS: TOVE LO • 'SUNSHINE KITTY [DELUXE]' • ISLAND [2020]
by
Admin
Wed Jul 22, 2020 2:43 pm
»
CREDITS: JESSIE WARE • 'WHAT'S YOUR PLEASURE?' • VIRGIN [2020]
by
Admin
Wed Jul 22, 2020 2:38 pm
»
CREDITS: ELLIE GOULDING • 'BRIGHTEST BLUE' - 'EG 2.0' • POLYDOR/FIRST ACCESS [2020]
by
Admin
Wed Jul 22, 2020 2:28 pm
»
CREDITS: @KMICHELLE • 'THE PEOPLE I USED TO KNOW' • ATLANTIC/WBR • GOLDIIE, JEREMIAH BETHEA, PRISCILLA RENEA, JEREMIH, CLAUDE KELLY, CARMEN REECE
by
Admin
Sat Dec 09, 2017 10:09 am
»
CREDITS: CALUM SCOTT • 'ONLY HUMAN' • CAPITOL [08/03/18]
by
Admin
Fri Dec 08, 2017 6:35 am
»
NEW SINGLES: @CAMILACABELLO • 'CAMILA' • @EPIC_RECORDS @SYCO • JAN 12TH
by
Admin
Fri Dec 08, 2017 6:35 am
»
NEW MUSIC FRIDAY: 08/12/17 @SPOTIFY @ASCAP @BMI
by
Admin
Fri Dec 08, 2017 6:24 am
»
TAYLOR SWIFT • 'reputation' • BIG MACHINE • MAX MARTIN / SHELLBACK / OSCAR GORRES / OSCAR HOLTER / ALI PAYAMI / JACK ANTONOFF
by
Otaku
Thu Dec 07, 2017 8:46 pm
»
CHARLI XCX • 'POP2' • WBR
by
Otaku
Thu Dec 07, 2017 8:26 pm
»
CREDITS: @STAR • S1+S2 • @UMG @REPUBLICRECORDS •@wordtoJUDE @BRITTANYOGRADY @RYANDESTINY @FOXTV @NETFLIX @FOXNATION
by
Admin
Thu Dec 07, 2017 11:57 am
»
NEW MUSIC FRIDAY: 01/12/17 @SPOTIFY @ASCAP @BMI
by
Admin
Sun Dec 03, 2017 6:50 am
»
NEW MUSIC FRIDAY: 24/11/17 @SPOTIFY @ASCAP @BMI
by
Otaku
Sat Dec 02, 2017 8:09 pm
»
CREDITS: @MATTTERRY93 • 'TROUBLE' • SYCO/EPIC
by
Otaku
Sat Dec 02, 2017 8:04 pm
»
NEW MUSIC FRIDAY: 17/11/17 @SPOTIFY @ASCAP @BMI
by
Otaku
Mon Nov 20, 2017 5:14 pm
»
NEW MUSIC FRIDAY: 10/11/17 @SPOTIFY @ASCAP @BMI
by
Otaku
Mon Nov 20, 2017 4:28 pm
»
DISCOGRAPHY: TOVE LO • 'BLUE LIPS' • UMG / 'LADY WOOD' / 'QUEEN OF THE CLOUDS'
by
Admin
Thu Nov 09, 2017 7:51 pm
»
NEW MUSIC FRIDAY: 03/11/17 @SPOTIFY @ASCAP @BMI
by
Admin
Thu Nov 02, 2017 4:01 pm
»
NEW MUSIC FRIDAY : 27/10/17
by
Admin
Thu Nov 02, 2017 3:01 pm
»
NEW MUSIC FRIDAY: 20/10/17 @SPOTIFY @BMI @ASCAP
by
Otaku
Thu Oct 26, 2017 12:45 am
»
CREDITS: @AGNEZMO x @only1DANJA • X • Jim Beanz/Goldiie/Jamaica Smith
by
Admin
Wed Oct 18, 2017 8:46 pm
»
NEW MUSIC FRIDAY: 06/10/17 @SPOTIFY @ASCAP @BMI
by
Admin
Sun Oct 15, 2017 6:50 am
»
NEW TRACKS: KELLY CLARKSON • 'MEANING OF LIFE' • @ATLANTICRECORDS
by
Otaku
Sat Oct 14, 2017 6:17 pm
»
NEW MUSIC FRIDAY: 13/10/17 @SPOTIFY @ASCAP @BMI
by
Otaku
Sat Oct 14, 2017 6:02 pm
»
• CHECK OUT OUR LATEST PLAYLISTS/CREDITS @SPOTIFY PAGE •
by
Admin
Wed Oct 11, 2017 4:38 pm
»
CREDITS•UNRELEASED: @ESMEEDENTERS • @INTERSCOPE TENNMAN • @JUSTINTIMBERLAKE @FAUNTLEROY @ESTERDEAN @TOBYGAD
by
Admin
Wed Oct 11, 2017 4:37 pm
»
DISCOGRAPHY: @4everBRANDY • @ATLANTICRECORDS @EPIC_RECORDS @RODNEYJERKINS @TIMBALAND
by
Admin
Sun Oct 08, 2017 6:44 pm
»
DISCOGRAPHY: @TAMARBRAXTONher • [1996-2017] @RODNEYJERKINS @TRICKYSTEWART @VINCENTHERBERT @EPIC_RECORDS @DREAMWORKS
by
Admin
Wed Oct 04, 2017 2:24 pm
»
NEW MUSIC FRIDAY: 29/09/17 @SPOTIFY @ASCAP @BMI
by
Admin
Wed Oct 04, 2017 10:38 am
»
UPCOMING: @ERAISTREFI • ULTRARECS • @iSTARRAH @ALEXPURPLE71 @CHLOEANGELIDES @RAYE @thisisROMANS @TMSldn
by
Admin
Tue Oct 03, 2017 8:50 pm
»
NEW TRACKS: @TINASHE • 'JOYRIDE' • @RCARECORDS • @MIKEWILLMADEIT @DEV_HYNES @STARGATE @JUSTTRANTER @imJMICHAELS
by
Otaku
Mon Oct 02, 2017 11:44 pm
»
CREDITS: @DDLOVATO • 'TELL ME YOU LOVE ME' • @UMG @TAYLAPARX @DJMUSTARD @OAKwud @NOONIEBAO
by
Otaku
Mon Oct 02, 2017 11:12 pm
»
CREDITS: @BEAMILLER • 'blue/red/yellow' • @SYCO @HOLLYWOODRECS • @OAKwud @STEPHJONESmusic
by
Admin
Thu Sep 28, 2017 1:09 pm
»
[in progress] @JLO • 'LIVE IT UP' [LP] • @REDONE_official /@CAPITOLRECORDS [12-13] @DIANAVICKERS @ENRIQUEIGLESIAS
by
Otaku
Thu Sep 28, 2017 1:20 am
»
NEW MUSIC FRIDAY: 22/09/17 @SPOTIFY @ASCAP @BMI
by
Admin
Wed Sep 27, 2017 1:52 pm
»
CREDITS: @JLO • 'LOVE?' • @EPIC_RECORDS SESSIONS • @PHARRELL @AMANDAGHOST
by
Admin
Mon Sep 25, 2017 9:43 pm
»
CREDITS: @KMICHELLE • 'A REBELLIOUS SOUL' • @ATLANTICRECORDS •
by
Admin
Mon Sep 25, 2017 6:03 pm
»
CREDITS: @FERGIE • 'DOUBLE DUTCHESS' • @BMG @CHARLIEPUTH @POLOWDADON @JUSTTRANTER @NICKIMINAJ
by
Admin
Mon Sep 25, 2017 5:57 pm
»
CREDITS: @weareGALANTIS • 'The Aviary' • @WBR • @CandyShields @ROZESsounds @KazPoole [09/15/17]
by
Otaku
Wed Sep 20, 2017 10:40 pm
»
NEW SINGLE: @TONIBRAXTON • 'SEX & CIGARETTES' • @ATLANTICRECORDS • @FREDBALL @KENNYEDMONDS
by
Otaku
Wed Sep 20, 2017 9:40 pm
»
CREDITS: @TONIBRAXTON • 'PULSE' • @ATLANTICRECORDS • @RODNEYJERKINS @BIGSHIZ @ROBINTHICKE @STARGATE @CLAUDEKELLY
by
Otaku
Wed Sep 20, 2017 9:12 pm
»
CREDITS: @KMICHELLE • 'MORE ISSUES THAN VOGUE' • @ATLANTICRECORDS •
by
Admin
Wed Sep 20, 2017 10:25 am
»
DISCOGRAPHY: JESSICA ASHLEY KARPOV pka @HARLOEmusic
by
Admin
Fri Sep 15, 2017 3:49 pm
»
CREDITS: @itsRANGE • 'NO STRINGS' • @ROCNATION / STARROC / EPIC • @STARGATE
by
Admin
Fri Sep 15, 2017 3:46 pm
»
CREDITS: @JESSIEWARE • 'GLASSHOUSE' • @UMG • @imJMICHAELS @KIAHVICTORIA @POPWANSEL @itstheMARU @ROSSGOLAN
by
Admin
Thu Sep 14, 2017 10:25 pm
»
CREDITS: @SJADEmusic • 'MY NAME IS SAMANTHA JADE' • JIVE/ZOMBA • @TIMBALAND @RODNEYJERKINS @MISCHKE
by
Admin
Wed Sep 13, 2017 9:22 am
»
CREDITS: @iamBRIDGETKELLY • 'SOMETHING DIFFERENT' • @ROCNATION • @FAUNTLEROY @DRAKE @STARGATE @TOBYGAD @LINDAPERRY
by
Admin
Tue Sep 12, 2017 5:37 am
»
The Waiting Room
by
Admin
Mon Sep 11, 2017 4:32 am
»
[in progress] @ALEXANDRABURKE • 'OVERCOME' • @SYCO /EPIC • @BRUNOMARS @ANDREAMARTIN @AUTUMNROWE
by
Admin
Sat Sep 09, 2017 12:58 pm
»
[in progress] @LEONALEWIS • 'GLASSHEART' • @SYCO /EPIC • @EMELISANDE @AUTUMNROWE @ARIELRECHTSHAID
by
Admin
Sat Sep 09, 2017 11:52 am
»
[in progress] PUSSYCAT DOLLS • 'PCD' / 'DOLL DOMINATION' • @INTERSCOPE •
by
Admin
Fri Sep 08, 2017 12:42 pm
»
[in progress] @LEONALEWIS • 'SPIRIT' • @SYCO /J RECORDS • @EHUDMUSIC @STARGATE @NEYO @JOHNTAAUSTIN
by
Admin
Thu Sep 07, 2017 2:46 pm
»
[in progress] @LEONALEWIS • 'ECHO' • @SYCO /J RECORDS • @ONEREPUBLIC @EVANBOGART @STARGATE @NEYO
by
Admin
Thu Sep 07, 2017 2:41 pm
»
[in progress] @BEYONCE • 'IAM / SASHA FIERCE' • @COLUMBIARECORDS
by
Admin
Thu Sep 07, 2017 2:29 pm
»
NEW TRACKS: @CHARLI_XCX • 'XCX GIRL IN AN XCX WORLD' • @ATLANTICRECORDS
by
Otaku
Fri Sep 01, 2017 4:01 pm
»
CREDITS: @itsMELANIEAMARO • 'TRULY' • @SYCO @EPIC_RECORDS
by
Admin
Thu Aug 31, 2017 5:42 pm
»
CREDITS: @MAROON5 • 'RED PILL BLUES • @INTERSCOPE /222 • @imJMICHAELS @DIPLO @CHARLIEPUTH @SZA @itsDYO @JUSTTRANTER @itsJACOBKASHER @itsBENNYBLANCO
by
Admin
Wed Aug 30, 2017 6:33 pm
»
CREDITS: 4H • @FIFTHHARMONY • @EPIC_RECORDS @SYCO • [AUG 25] @TAYLARPARX @CANDYSHIELDS @HARMONYBOE @JASONEVIGAN
by
Admin
Tue Aug 29, 2017 10:08 pm
»
NEW TRACKS REGISTERED: @BEBEREXHA • 'ALL YOUR FAULT' [LP] • @WBR • @DJMUSTARD @STARGATE @ISLEYJ @TIMBALAND @SEANDMUSIC @COOKCLASSICS @TALAYRILEY @EKIDDBOGART @INVISIBLEMENuk @IANKIRKPATRICK @ROSSGOLAN
by
Admin
Tue Aug 29, 2017 8:40 pm
»
NEW TRACKS: @RITAORA • 'THE SINGLE MOST AMAZING..' • @ATLANTICRECORDS • @ALITAMPOSI @thisisWATT @JIMMYNAPES @DALLASK @GEORGIAKU @RITUALS
by
Admin
Wed Aug 16, 2017 2:55 pm
»
CREDITS: @KATYPERRY • 'WITNESS' • @CAPITOLRECORDS @METAMORPHOSISMU @SARAHHUDSONuvs @FERRAS @MAXOPEDIA10 @DJMUSTARD @MIKEWILLMADEIT
by
Admin
Wed Aug 16, 2017 2:26 pm
»
CREDITS: @KESHA • 'RAINBOW' • @RCARECORDS @RCALABELGROUPUK @JUSTTRANTER @RICKYREED
by
Admin
Wed Aug 16, 2017 1:25 pm
»
CREDITS: @BEBEREXHA • AYF 1+2 [EP] • @WBR • @STARGATE @FRANKDUKES @RCITY @DJMUSTARD
by
Admin
Fri Aug 11, 2017 11:43 am
Top posting users this week

>> View @ Spotify <<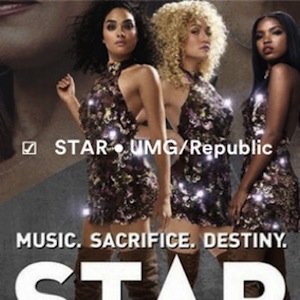 Damn Daddy
[Sean Garrett, Ashley Rose Collier] [Quentin Dennard II]
You Might Be
[Johnta Austin] [Troy Taylor, MTech - Matthew Bernard]
Get Your Own
[Ester Dean, Jasper Cameron] [DarkChild]
I Want You
x Luke James
[Johnta Austin] [Jermaine Dupri, Bryan Michael Cox]
America Dreaming
x Luke James x Evan Ross
[Johnta Austin] [Troy Oliver, Troy Taylor]
[Marvin Gaye]
Save Your Love
x Luke James x Evan Ross
[Malik Cox, Steven Rosado, Kenny Garcia, Alec Aritola] [Sheldon Harris]
Time
[Melanie Fiona Hallim] [Maurice Willis pka Jimi Cravity]
Perfecta
[Trakformaz, Warehouse Music Group]
Don't You Worry
x Queen Latifah
[Antea & Anesha Birchett] [Darkchild, King Midas]
So Sick
x Luke James
[Crystal Johanna Carr, Trev'Le Waltower Jr, Deontrez McCluskey] [Darkchild, King Midas]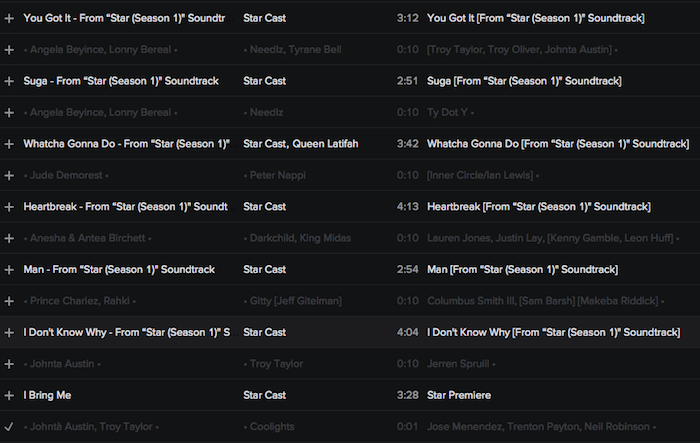 Last edited by Admin on Thu Dec 07, 2017 11:56 am; edited 5 times in total
Yesss new STAR tracks, and more spitbacks
they stole Ratchet Life from Kelly Rowland's group June's Diary. More big names as usual too Makeba, Johnta, Troy Taylor AND Oliver, Luke James, Asia Bryant and Tricky Stewart. Have put the unknown people at the bottom for now not listened to anything yet.
Any chance you could box this someday? No rush

Otaku




Posts

: 440


Join date

: 2017-08-26



Yeah I definitely can dude do you not have spotify though? I can add you to mine if you don't?
Yeah of course, I can listen to them but y'know...I kinda want them 'digitally physically'. There's Makeba and shit

Otaku




Posts

: 440


Join date

: 2017-08-26



haha okay I see, yeah I'll do them ASAP if you couldn't hear them would have upped them straight away, the quality of the material is so impressive [EMpire has a much bigger budget and is hit and miss for me] plus I'm loving that they're placing old tracks, I wish more people would do it.
New tracks: this has to confirm Darkchild and A Plus are still working together, unless the 3 tracks on here and Tamar are old demos..
Last tracks are out: mostly with Luke James though unfortunately. JD and BCox can do way better to.
There is one stand out though, Damn Daddy, glad to hear more from this Ashley Rose Collier girl
---
Permissions in this forum:
You
cannot
reply to topics in this forum